Financing for any of your business needs
Fast-track your success with quick and easy business financing through our partner, Stripe Capital, an industry-leading financial services platform.
Funding in just a few clicks
Skip the lines and long waits at the bank. With business financing powered by Stripe, you can access funds you are pre-qualified for as soon as the next business day – all from your fingertips.
Simple, fast, and transparent
Housecall Pro makes it simple and fast for you to get the financing your business needs. You will be notified when you are pre-qualified (eligibility for financing is determined by factors like the volume and history of payments within HCP). Funds will arrive as soon as the next business day.
Automatic and flexible repayment
Repayment fits flexibly into your day-to-day operations, so you have one less thing to manage.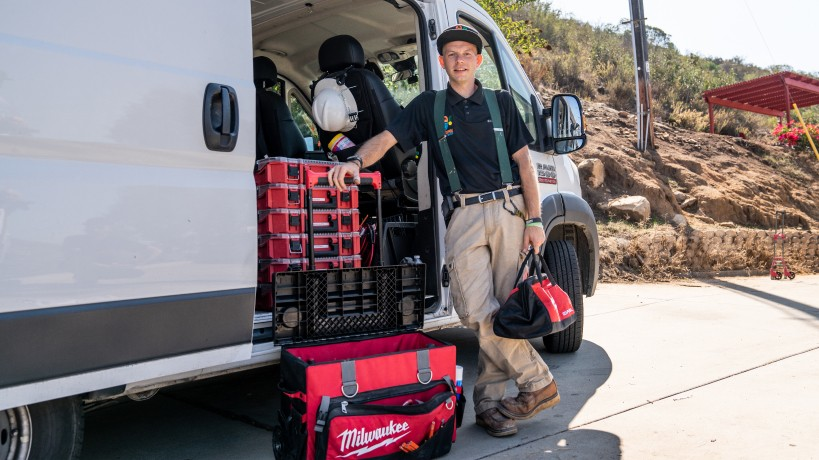 Available for any of your business needs
We're here to support you – no matter what your goals are. Below are just a few examples of what business financing can be used for:
What Pros have to Say About Business Financing
You answer a few questions,
and money is in the account!
"You answer a few questions, and money is in the account! I don't even notice repayment, which makes this loan very appealing. I will use funds for equipment and bringing marketing capabilities in-house."
David B.
Owner, The Trash Buster
San Rafael, CA

Business Financing FAQs
Loan eligibility is based on a variety of factors related to your business, including volume of payments within Housecall Pro and your account history.
Financing can be used for any of your business needs – cover cash flow gaps, purchase supplies for that upcoming job, invest in new equipment, hire another staff member, and more.
Repayment is collected automatically through a percentage of the credit card and ACH payments you receive through Housecall Pro, which means you pay down more when business is busy and less if things slow down.
The total amount you owe is your loan amount plus a flat fee. You won't pay any interest or any other fees such as late fees, early payment fees, or origination fees.
Consumer financing is for your customers, so you can win bigger jobs (when your customers borrow money, they may be able to afford jobs they couldn't otherwise). Business financing is money for your business.
Loans are issued by Celtic Bank, a Utah-Chartered Industrial Bank Member FDIC. All loans subject to credit approval.